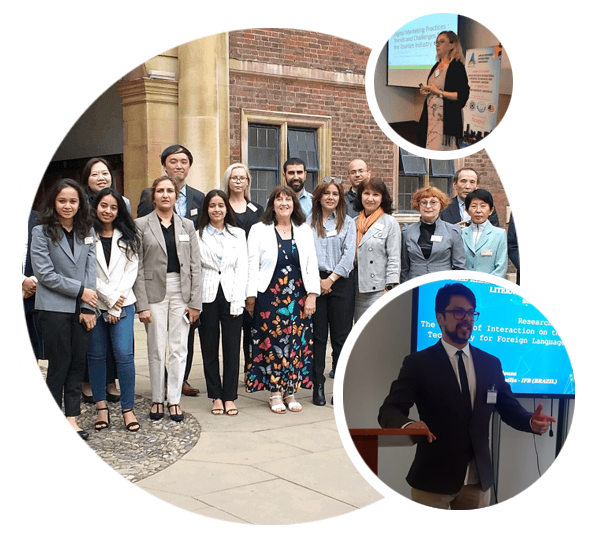 Applied Research International Conferences
ARICON is an international organization for Research & Development, which aims to provide an outstanding platform to innovative academicians & researchers around the globe for the last 14 years. ARICON moved on with a more global approach and extended its operations across the globe. Focusing extensively on academic conferences on MULTIDISCIPLINARY STUDIES, ARICON also brings together close to 1,500 scholars and researchers in the area of BUSINESS, TECHNOLOGY, HUMANITIES, and EDUCATION.
ARICON international conferences provide a unique opportunity to young and old, from Europe to Asia, Africa to the Middle East, the Far East to Australia, and from North to South America to share their knowledge, research, and experiences and avail extensive global networking. However, yet ARICON is proud to offer the most successful conduct international conferences on Multidisciplinary studies where scholars from numerous disciplines with varied academic focus come across and explore new ideas and concepts to extend their research.
Multidisciplinary studies provide removes the boundaries to understand and comprehend the wider range of disciplines and provides an opportunity to develop deeper skills of evaluation and reinvent their thought process. In such events based on multidisciplinary studies, participants learn a number of different logical and methodical approaches and are able to select the best one to use for particular circumstances. Academic conferences on multidisciplinary studies as a forte of ARICON, help the delegates to establish research or business relations as well as to find international linkage for future collaborations in various cross-disciplines.
Published Research Papers
Furthermore, ARICON international conferences provide extended opportunities to publish the presented research in well-acclaimed research journals with remarkable standing in the research and publication world. ARICON partner journals consider publishing the papers presented at ARICON research conferences on a priority basis. Other than the journals, ARICON also publishes all the presented papers in their conference proceedings with ISBN registered by Nelsen U.K and The British Library, the U.K. All the published research papers are also displayed over the ARICON website. Having a firm belief in inclusion, ARICON also considers research and papers in progress by research students.
Your published research papers with Applied Research International Conferences (ARICON) can make your work more discoverable, as they are not only published and read in the journal but also available on ARICON website and ARICON researchers' fraternity receive those in the regular updates and newsletters. ARICON's partnered journals are also placed in high-profile academic libraries as Bodleian Library at The University of Oxford, the U.K, and Central Library of The University of Cambridge, U.K in addition to other British and international university libraries. Moreover, these published research papers tend to bring not only career advancement to the researcher but also a noteworthy source of contribution to bring betterment in the mentioned discipline.
ARICON - A Quick Overview
The primary goal
of our conferences
It is to provide opportunities for academicians and scientists along-with professionals, policymakers and practitioners from various fields in a global realm to present their research contributions and views, on one forum and interact with members inside and outside their own particular disciplines.
The conference will also provide opportunities for publishing research papers in indexed and recognized scholarly research journals. ARICon editorial board consists of seasoned researchers from various parts of the world and from varied disciplines as Pure Sciences, Engineering, Information Technology, Social Sciences, Economics, Business and Management Sciences, ass Communication etc. We are also partnered with internationally recognized journals with valid ISSN providing the opportunity to our conference participants to publish their work.
Conference proceedings will also be published with ISBN. For the purpose, we have chosen several global destinations as Turkey, Thailand, Malaysia, Morocco, Srilanka, Baku, Dubai etc. since these destinations are tourist friendly & international researchers can travel easily without facing hurdles regarding visa matters. These Conferences seek to achieve the following objectives:
To facilitate discussion on business, science and technology that will expedite global growth and economic recovery
To establish networking ties between members of academia and industries
To narrow the gap between academic and practical knowledge
To develop a series of focused research topics that will benefit the academic world
To foster the application of methodological approaches in any environment
INDEXING, ABSTRACTING, LISTING AGGREGATION AND SYNDICATING