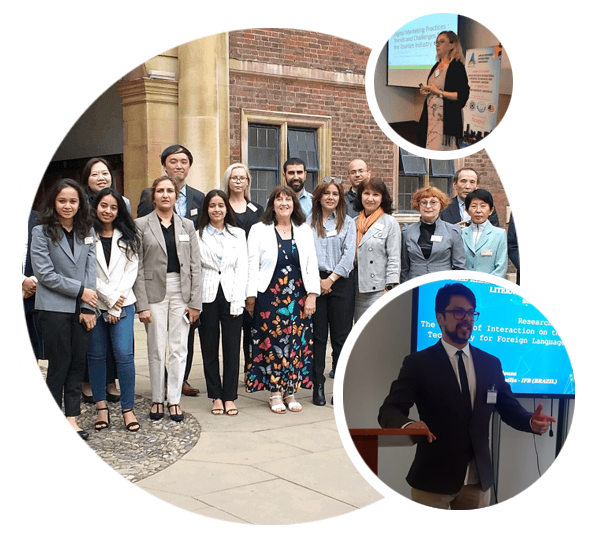 Applied Research International Conferences
(ARICon) is an international organization for Research & Development, aims to provide a platform to innovative academicians & researchers around the globe for last 12 years. Our regional offices are located in Australia and U.K.
The organization also encourages research activities by organizing research training workshops, conferences and publishing high quality research manuscripts in reputable international journals across the globe.
30th - 31st Aug 2021

2 DAYS

Applied Research International Conference on Business & Interdisciplinary Studies

Venue: University of Cambridge, U.K and LIVE Virtual
ARICON - A Quick Overview
The primary goal
of our conferences
It is to provide opportunities for academicians and scientists along-with professionals, policymakers and practitioners from various fields in a global realm to present their research contributions and views, on one forum and interact with members inside and outside their own particular disciplines.
The conference will also provide opportunities for publishing research papers in indexed and recognized scholarly research journals. ARICon editorial board consists of seasoned researchers from various parts of the world and from varied disciplines as Pure Sciences, Engineering, Information Technology, Social Sciences, Economics, Business and Management Sciences, ass Communication etc. We are also partnered with internationally recognized journals with valid ISSN providing the opportunity to our conference participants to publish their work.
Conference proceedings will also be published with ISBN. For the purpose, we have chosen several global destinations as Turkey, Thailand, Malaysia, Morocco, Srilanka, Baku, Dubai etc. since these destinations are tourist friendly & international researchers can travel easily without facing hurdles regarding visa matters. These Conferences seek to achieve the following objectives:
To facilitate discussion on business, science and technology that will expedite global growth and economic recovery
To establish networking ties between members of academia and industries
To narrow the gap between academic and practical knowledge
To develop a series of focused research topics that will benefit the academic world
To foster the application of methodological approaches in any environment
INDEXING, ABSTRACTING, LISTING AGGREGATION AND SYNDICATING