ARICON is dedicated to provide a common platform for educational institutes, academia, government and industry to discuss key issues and new developments in the field of law, business, marketing, management, economics, finance, politics, social sciences, natural sciences, technology, engineering, mathematics etc. which is critical to the development of professional competitive edge. We achieve this goal by organising highest quality academic conferences and seminars for professionals.
The overall objective of Applied Research International Conference on Interdisciplinary Studies (ARICIS 2019 Dubai) is to provide a platform and stimulate discussion on respective tracks.
Business & management
Politics
Economics/ Economy
Society
Technology
Environment
Law/ Legislation
Health Sciences
Language & Literature
Conference registration fee includes:
Access to all sessions in the conference
Certificate of Attendance
Congress package and inserts
The e-book of abstracts with the scientific program of the conferences
The e-book of full text proceedings with ISBN number
Lunches
Coffee Breaks
Welcome Mocktail
Excursion (only for international participants):
Desert Safari
Photo Stops
Dune Drive
Campsite
Henna Designs
Delicious BBQ Dinner
Arabic Dance
Virtual participant registration fee includes:
The e-book of abstracts with the scientific program of the conferences
The e-book of full text proceedings with ISBN number
Certificate of Attendance
Technical support
Dr Nkem Ichoku-Adeleye is a strong legal academic with over 10 years' experience in research and teaching in higher education. She holds a Bachelor of Laws, an LLM in International Human Rights and her doctorate research was a comparative and socio-legal investigation on the existence of the death row phenomenon in USA and Japan. Nkem has presented papers both nationally and internationally. She has appeared twice before United Nations Commission on Human Rights in Geneva, Switzerland.  Her areas of expertise include International Human Rights, The Law of Tort, Equity and Trusts, Prisoner's Rights and Modern Slavery. She is currently a lecturer in law in Birmingham City University in Birmingham, England.
Dr.Zakariya Chabani
Dr Chabani holds a Ph.D. in Management from HEC Alger, Algeria. He also holds a Ph.D. in Economics from Istanbul University, Turkey. … Dr. Zakariya's research interests include Innovation management, ICT management, Human Resources Management, Economic growth theories. Currently he is a vital part of the faculty at Canadian University, Dubai.
ARICON since emergence of science has always been in need of excellent colloquial where pioneers of science can exchange their knowledge and innovation. Cutting edge technology expands with rigorous interaction and sharing of knowledge and experience. ARICON came into its operation when intellectual societies of professional world were in search of a common colloquial for interdisciplinary and research area interest focused interaction.
ARICON is a world class interactive professional association for technical and scientific knowledge sharing, where the international academics and professional community frequently meet. Sharing of knowledge in a proper perfect and exclusive forum leads to its expansion in addition to updates on cutting edge advancement on relevant research fields.
ARICON being a global class academic and scientific forum organizes several desks of discussions which make our events a perfect platform for B to B and academic as well as scientific research oriented interaction. From health science and medicine to application of IOT for disaster management and its impact on social studies which may affects the world economic and business management , whatever and whomever it may concerned related to higher education ARICON stands for all.
ARICON along with its team reaches all developed and developing countries, paradises and exotic island, harbor cities and hill stations ,global Cosmo polis and remote areas to make the activities of forum provide solutions for challenges to humanity. ARICON conferences are hosted every year on emerging scopes on science and technology and are proved to be epicenter of congress of scientist and scholars with their though provoking talks on current technology.
ARICON releases it's informative, globally referred and cited publications including proceedings and periodical with articles of international importance. Articles and research abstracts accepted for ARICON conferences could be cited at leading digital libraries.
Conference registration fee includes:
Day 1:
Access to all sessions in the conference 9:00 a.m – 5:00p.m
Morning Hi Tea/ Coffee Break 10:30 a.m
Lunches 12:30 p.m
Afternoon Coffee Break 3:00 p.m
Mints and stationary
Breakout session
Certificate of Participation/ Presentation
Congress package and inserts
Best Paper Award
The e-book of abstracts with the scientific program of the conference
The e-book of Conference proceedings with ISBN number
Day 2: Excursion
Pick up from Dubai Mall
Desert Safari
Photo Stops
Dune Drive
Campsite
Henna Designs
Delicious BBQ Dinner + Vegetarian Options
Arabic Dance
Entertainment artists
SUBMIT YOUR RESEARCH
The most IMPORTANT DATES to remember are as follows:
Extended Abstract Submission Deadline 5th January 2019.
Abstract Feedback: Within 10 days
Early Bird registration deadline: 10th January 2019
Regular registration deadline: 20th January 2019
Conference Dates: 20th – 21st February 2019
Email your Full formatted manuscript to ariconferences@gmail.com by 5th March 2019.
The proceedings will be published by 15thMarch 2019
Within 10 days of receiving your online abstract submission, we will notify you of the reviewers' acceptance or rejection, for the conference. If we inform you that it is an acceptance and you would like to publish your research, follow the model format by clicking at arintconferences.com/procedure-for-submission-of-full-papers/
Email us your formatted full manuscript in Microsoft Word. The selection of a journal, if any, for a particular manuscript, is entirely on the discretion of the editorial board members following the reviewers' suggestions.
Conference Proceedings would be published by Nelsen Publishers U.K & Ireland (with ISBN code) which provide access not only in the UK but Internationally. Later, on author's request, we recommend full papers to our allied journals who possess a range of indexing and archiving which is provided on our website. The publication of paper in journal is subject to the quality of paper and the double blind review report by the journal/s.
Our allied journals are indexed/accessed in (i) Scopus, (ii) WorldCat, (iii) Ulrich's serials directory, (iv) Cabell's directories of Educational Curriculum & Methods and Educational Psychology and Administration, (v) Proquest, (vi) EBSCO DataBase (vii) Genamics, (viii) the Excellence in Research for Australia (ERA 2012) list compiled by the Australian Research Council, and (ix) Google Scholar (x) JSTORE (xi) Re-PEc (xii) WorldCat (xiii) Directory of Open Journals (DJOJ) (xiv) J-Gate etc.
Presenters would have a choice in terms of presentation mode as:
Oral (Power Point) Presentations
At the conference, the presentation room will be equipped with a laptop, a digital projector and a projector screen. The laptop will be set up for Power-point presentations. Linux and Mac users are asked to save their presentations in a compatible format.
Poster Presentation:
Each poster in the session will include a graphic presentation of a research study on visual display of Maximum poster size is 0.8 meter wide by 1 meter high in Colored "portrait" format.
Posters are required to be condensed and attractive. The characters should be large enough so that they are visible from 1 meter apart.
Please note that during your poster session, the author should stay by your poster paper to explain and discuss your paper with visiting delegates.
Each poster holder will orally present their research in approximately 3 minutes in the area of the poster displays to an audience gathered as a group in front of each poster. The conference moderator will organise the interactive poster sections.
EASY TRAVEL TO OTHER EMIRATES STATES
Ferrari World AbuDhabi
Abudhabi Islands
Why Does ARICON Offer Free Tours During Each Conference?
In an era of globalization and multicultural sensitivity, study abroad programs are mushrooming all over the academic world. They would grow even further if academics had more time and resources to visit worldwide destinations to prepare future study abroad programs for their students.
Our conferences offer the perfect opportunity to blend in presentations with organized visits to locations that would make excellent venues for study abroad programs. The traditional fifteen minutes of fame – on the podium – stretch into days of academic interaction and discovery.
It defies logic to treat conference venues as isolated academic silos when they may also double up as potential venues for study abroad programs. As a result, we promote each conference as inseparable from its geographical location, history and culture. We work hard to find sponsors in each conference's geographical area that offer generous hospitality and tourism packages in parallel with our conference presentations.
We make our attendees' potential clear to our sponsors. Many graduate students and professors who attend academic conferences have a lifelong career in academia in front of them. As a result, each attendee has the potential to multiply the number of future visitors to a conference's wider geographical area. "We have memories so that we might have roses in December," wrote Scottish novelist James Barrie.
Without the opportunity to interact and share one's research and ideas, what is the point of attending an academic conference? There is no shortage of academic papers on the internet and at the libraries within our universities. One doesn't need a conference to access academic research. Printed academic papers allow the reader to digest carefully instead of chasing a speaker racing against the clock. To understand what a modern conference should be like, we invite you to attend an ARICON conference and experience.
What Our Participants Say
ARICIS 2019 DUBAI - DESTINATION HIGHLIGHTS
DUBAI- TOURISTS' PARADISE
Burj Khalifa
Among the various places to visit in Dubai, Burj Khalifa is a highly exotic one. It is a skyscraper which was initially known as Burj Dubai before its inauguration in 2010. It has 57 elevators and 8 escalators. The interiors and the ambience inside seem to be wrapped up in artistic exuberance. The structure and the interior designs bear testimony to the exorbitant amount that has been invested in this project.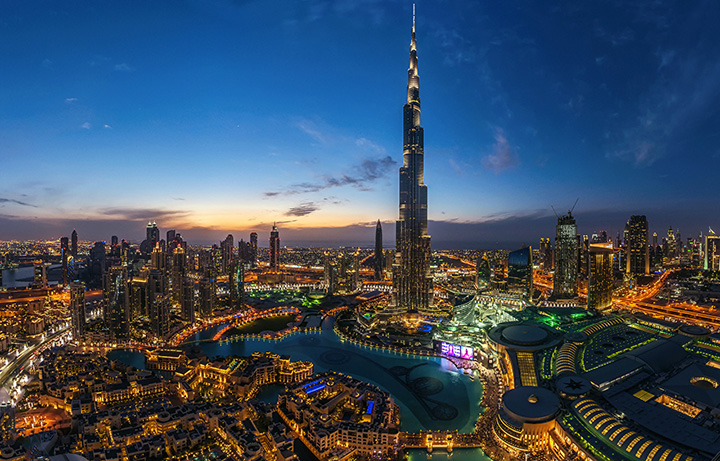 Dubai Aquarium
It is one of the world's largest suspended aquariums in Dubai. You can have an enthralling experience of the wildlife here. There are numerous aquatic species in this aquarium. The underwater zoo has a huge collection of sand tiger sharks and many other endangered species which are being conserved in their natural habitat.

Burj ul Arab
Why not spend your holiday in the third tallest tower in the world? This stellar tower in Dubai is a world class hotel with amenities that will make you feel like royalty. This Dubai attraction is a 56-floor building is open all around the year and caters to those who love living life large.
You could be lucky enough to have your own private butler and the view is breathtaking for all those who have an eye for luxury and pure bliss. There are several ranges of rooms you can choose from or you could avail a day tour wherein you can explore the bars and restaurants in this world-famous hotel..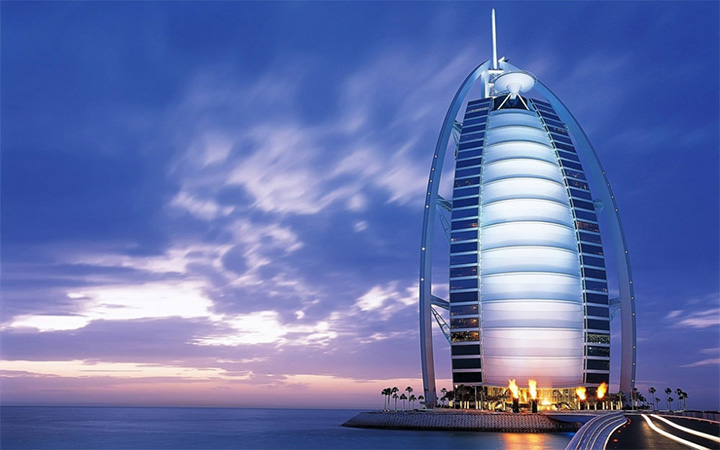 It is an outdoor water park in Dubai which is being operated by the Jumeirah International. It is a place which will quench the thirst for all your water sports adventures. Especially children will have a fun time in this park jumping and playing with water all around. There are several different water rides where you can have a completely awesome time.
There are two restaurants inside which will give your tummy a delicious treat when you feel hungry after hopping from one ride to another. There is a hot and cold wave pool where you can take a dip. Tumble Falls, Falcon Fury, Thunder Rapids, White Water Wadi are some of the rides available there. There is the facility of changing rooms and also a unique facility of wristbands.
The use of the wristbands prevents you from the ordeal of carrying your purse all around inside the park. You can use this band while purchasing food and beverages and any extra money that will be left over will be accordingly adjusted before you leave.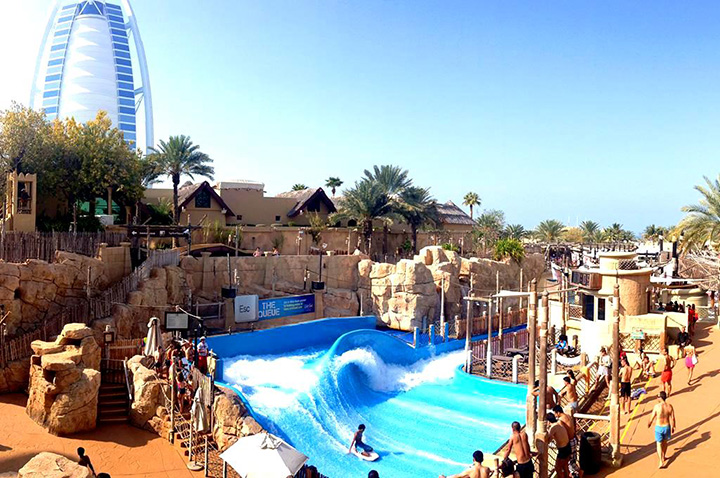 As we all know that Dubai has been flourishing as one of the most sought destinations these days; people are hovering to this destination in great numbers. And while you are visiting this exotic destination then Dubai Marina is a must visit for you. 
This Dubai attraction is one of the best-settled cutting edge districts. It's worked around the biggest man-made marina on the planet and contains various top eateries and in addition outside diversion and excitement buildings. The towers and living arrangements that house the expats who run here are a portion of the world's tallest condo structures.
Highlights: From eateries, boutiques, and markets, this waterfront improvement has it all. Dubai Marina contains ten regions each created as an unmistakable group. The Dubai Marina Walk, which lines the waterfront, has a choice of cosmopolitan eateries.
Other eye-catching destinations and activities in Dubai are Dou Cruise in Dubai, Dubai Dolphin show, Dubai Miracle garden, Ski Dubai, IMG Indoor Adventure Park, Bollywood Park Dubai, Hatta Heritage Village