Have a "Virtual Café" Together
Dear Colleague,
CRES Association is pleased to invite you to the 4th "Virtual Café"
"Tomorrow's SMEs (SME 5.0): Scenarios, Applications and Technologies with using the 5th wave theory"
Scheduled for next Monday, 2nd of November 2020 at 3:00 p.m. CET.
The 5th wave/tomorrow age theory and the related models are about the proceeding of future of I4.0 (I5.0) as a symbol for the west, & Society 5.0 (Society 6.0) as a symbol for non-west that has been invented, introduced and improved by Prof. Dr. Hamid Doost Mohammadian 2010-2017. In this theory and based on the 7PS model, SMEs, have a very important vital role to reach CSR 1.0 and CSR 2.0 to improve sustainability. The 5th wave theory posits the readiness for the edge of tomorrow, for 1-) forecasting, 2-) prevention, and 3-) facing today's challenges, and tomorrow's crises! It creates SMEs in tomorrow's societies founded on open innovation, high technologies, IoT, D3 revolutions, AI, big data techniques, and appropriate smart business strategies which can create a new concept of SMEs which is capable of tackling with future concerns from a national scale-up to global, facilitating the spread of different business systems entitled "Tomorrow's SMEs/Hybrid SMEs or (SME 5.0)". Based on the 3D SocioEcoEnvir model, the priority in SME 5.0 is 1) Environmental responsibility, 2) Social cohesion and at the end 3) Economic efficiency. In this theory the world economy will be changed from a business economy to an innovative data and sustainable business economy, leading to the concept of the "Internet of Business (IoB)".
We'll go deeper into the subject with the following relevant speakers:
Opening session: Prof. M. Spatafora, President, CRES Association (IT)
Introduction: Arch. A. Spatafora, Managing Director, CRES Association (IT)
Main Speaker: Prof. Dr. Dr. h. c. Hamid Doost Mohammadian, Professor of Sustainability in Germany, FHM (DE)
Discussion: Dr. Mariya H. Nadeem, Director of Communications, LISD (UK)
The webinar will last approximately 1 hour and will be held in English language.
For more information, please, see the "Save the date" leaflet here below: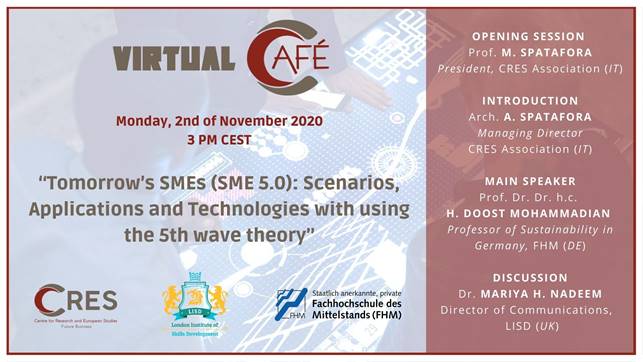 To attend the Virtual Cafè
Join Zoom Meeting:
https://zoom.us/j/93400266351?pwd=MG9xcDBZVld6WGtTRmh5aHg1eGEvZz09
Meeting ID: 934 0026 6351
Passcode: 271395
We kindly ask you to make access to the indicated zoom room at least 10 minutes before starting.
For any further information, please don't hesitate to contact Mrs Alessia Spatafora (info@asscres.eu).
We thank you in advance for your attention.
Alessia Spatafora
CRES – Center for Research and European Studies for future business
Managing Director